Monkey Business is Smart Business
Owning a Math Monkey franchise could be one of the smartest decisions you'll ever make. Math Monkey Knowledge Centers are a wildly distinctive concept in the fastest growing segment in child services, i.e. supplemental education. And there's never been a better time to become a Math Monkey franchisee. As a franchisee, you'll be interacting with parents who want the best for their children and are willing to pay for it. Whether it's about preparing their children for the future or simply to get the children more excited about math, Math Monkey is ready to get them into the swing of things in no time!
Do you agree that today's children can learn faster than what we can teach them?
Do you believe in "Play to Learn" educational concept?
Do you like to develop children with higher ability to solve problems?
Do you like to explore new methodology to develop children's brain abilities as foundation of their learning ability?
Are you ready to explore uncharted field to create strong foundation to success for our future generation?
Math Monkey's MathBrain program will develop the children's mathematical ability to solve problems. The children will have fun by playing games so that they will be more open to learning without realising the amount of new knowledge they gain from the activities in Math Monkey's program.
Our unique methodology to teach Vedic Math by playing games is the result of our many years of research and development. Math Monkey Knowledge Center is a phenomenal franchise opportunity!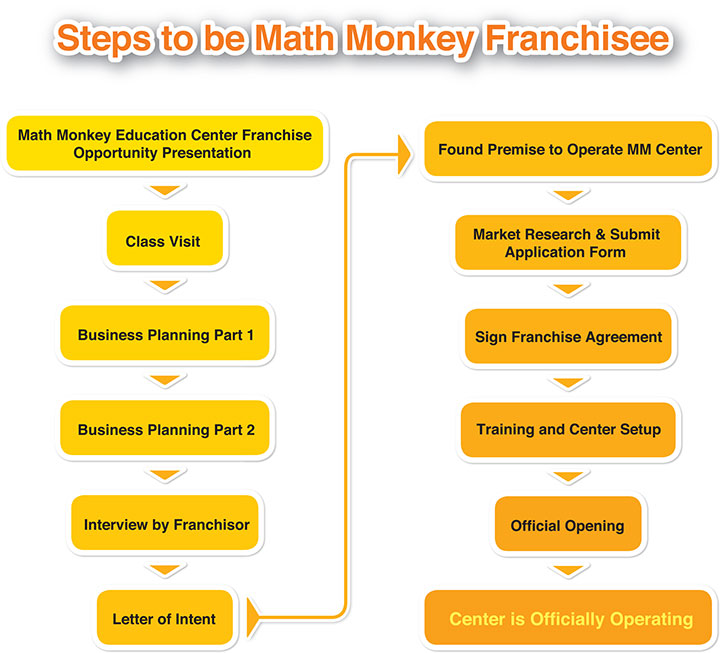 Every business has risks. The success of Math Monkey business is dependent the commitment, dedication and leadership of the business owner. The person who is very passionate to help and educate children and able to invest reasonable amount of time in the center operation has higher chance of success.
Although teaching experience is an advantage, it is not always compulsory. Teaching ability will demonstrate your passion to educate children which is our main priority. You need to have good numerical skills to learn and impart mathematical principles to children through holistic education. It is very important for you to have high trainability in order to have higher probability of success.
Our comprehensive training program for new Math Monkey Franchisees include Vedic Math training, Math Monkey teaching methodology, classroom management, center operations, teachers recruitment, local marketing etc. Candidates must pass all the trainings and get certified before they are allowed to operate a centre.
Math Monkey will provide you with the guidelines in identifying a successful location, however franchisee is responsible to identify and submit the site information for our approval. We will advise you the details after you have done your business plan and your franchise application has been approved.
Revenue and profitability vary upon several factors including demographics of the locations, rental rates, utilities and other daily operating costs. The demand for good and unique children supplemental education is high and the market is tremendous. However, the revenue of each Math Monkey Knowledge Center differs and is highly dependent on the ability and dedication of the center's instructional team to win the confidence of parents and children. The best way to determine the profitability potential is to follow our franchise recruitment process, validate Math Monkey's program, develop a business plan, validate the plan and determine for yourself if this business is suitable for you. You are the driver to take charge of your own success.