Kirsten Fisch, Founder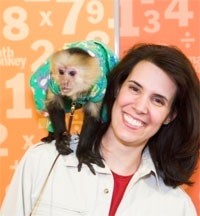 As the Founder (and as we like to say, Top Banana), Kirsten provides the passion that fuels Math Monkey. As an accomplished early childhood educator, former teacher and mother of three, Kirsten has an excellent grasp for the power of math. She understands how much parents want their children to succeed and that math is paramount for that success. As an educator, Kirsten also knows that students who establish a solid fundamental foundation gain confidence, which allows them to succeed in the classroom.
Kirsten also brings to Math Monkey a keen business sense. She possesses a Bachelor of Arts in Communications from the University of Miami, and has completed postgraduate study in Human Resource Management at Cornell University. Having held the position as VP of Human Resources for a global outsourcing company, she has seen how different cultures that value mathematics have excelled in the global economy. Kirsten decided to bring the enthusiasm for mathematics she experienced abroad to students and children in America. She has dedicated herself to the education of children through mathematics.